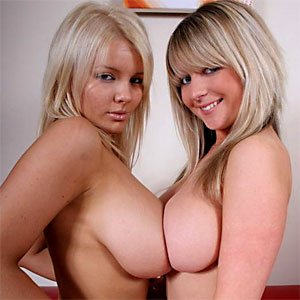 Now this is what a big tit lover would call heaven. Two totally sexy babes with nice big tits playing together.
Ashley (she is on the right) is a sexy lass with 32E boobs that normally would be the big end of things. Not very many girls naturally make it to E cup, and certainly not while looking as sexy she does. She really is a hotty with a nice body and amazing tits.
However, Faith (on the left) outdoes her with some gigantic G cup boobs (that's right G, also known as FFF) that are fucking titantic wonder tits. Seeing these two sweeties rubbing their titties together gets most men erect without a second to spare!
The gallery is fairly light with some squeezing and tit licking, but you know that something else happened over time, it just has that look. Click here to check out the gallery.
You can also check out Ashley's personal website, click here.
If you prefer Faith, you can click here to check out her G cup tits!