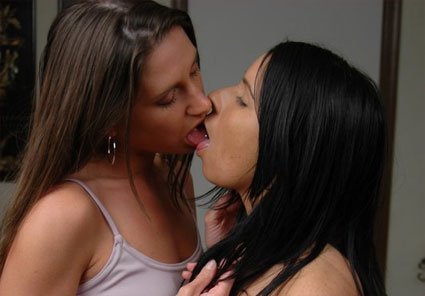 Ahh, girls kissing.  I don't need any more than that, and I am already getting a little chubby going.  Nice stuff.
Anyway, here's the story.  The taller girl went out to a shopping mall, and spotted the tight looking dark haired girl. They chat for a bit, she makes some nice compliments about her, and invites her home for tea or to watch TV or something.  But it isn't long before she has her in a nice lip lock, as you can see above.
The clothes come off, and soon enough she is munching on their girls pussy from behind while she cums like mad.  Now, she has never been with a girl before, but she knows she should return the favor so she tries out licking pussy for the very first time.  Damn hot stuff!