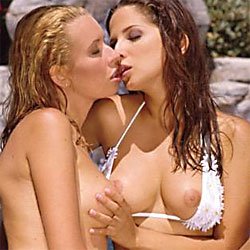 Here is a couple of totally hotties, in a setting I really love.
These two are out by the pool, and they are getting a little frisky. Soon enough the bath suits are getting pushed aside and the kissing and licking starts… you know there is wet pussy here, heck, they are at a pool, you know? I just find this really quite sexy, very voyeuristic and such… I really feel like I could be right there watching these two as they make out by the pool. Sexy indeed. The girls are totally hot too, so I am way happy to see them naked!
This gallery has some nice closeup pussy licking shots, fingering from the rear, french kissing girls, and of course titty licking. Very nice!